Till Sunrise is a singer/guitarist musical duo specializing in jazz, blues and classic R&B covers. We're based out of Bellevue and enjoy playing in the greater Seattle and Eastside areas.
Katrina Radovich (vocals) hails from Kahuku, Hawaii, on the north shore of Oahu, and has been singing ever since she can remember, entertaining friends and family with her music. Singing has been a life-long passion for Katrina. She got her start singing professionally with the Seattle Girls Choir at the age of 14 and later progressed to live performances throughout the Seattle, Las Vegas, San Diego and Hawaii areas. Her range is very eclectic, from blues to jazz to pop to country, but blues is her all-time favorite. Katrina has sung for television, radio and a number of live engagements, including the Body Glove Cruise in Hawaii and a Charles Schwab corporate event with Grammy award nominated artist L.T. Smooth. She sang on Bula Akamu's album Innovation, and recorded a voice commercial spot for Hawaii Tropical Gold 100% Kona Coffee (aired on Kapa 96.1 Kona/100.3 Hilo). Katrina is very passionate about what she puts into a song on stage and she has a blast doing it!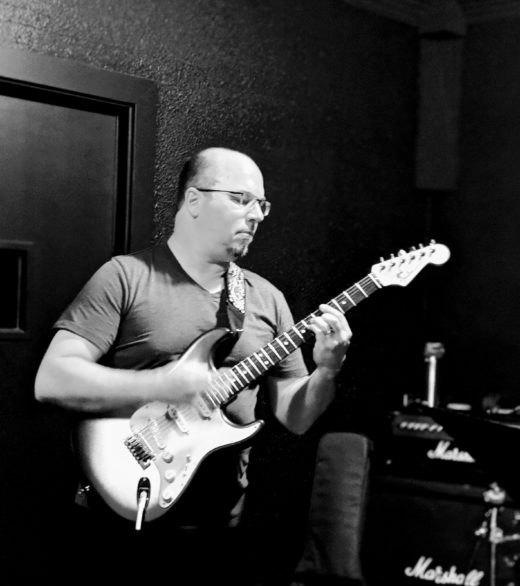 Mike Kohary (guitar) is a native born-and-bred Pacific Northwesterner who grew up in the north Seattle suburbs. He has loved music since he was a small child, and used to spend hours singing along to his mom's Beatles, Simon & Garfunkel, Beach Boys and Fleetwood Mac records. Inspired by the likes of Jimi Hendrix, Larry Carlton, Jeff Beck and Eddie Van Halen, Mike took up the guitar in high school and has never looked back. He studied with Pacific Northwest luminaries Jay Roberts and Scott Lindenmuth, and quickly became proficient at playing rock, jazz and blues styles. Mike also studied music theory and composition under the tutelage of Gloria Swisher and Nancy Matesky, among others. He played guitar for the Shoreline Jazz Choir under the leadership of renowned session musician Terry Lauber, and then moved on to major in music composition at the University of Washington. He's played in a variety of bands over the years, but this is his first foray into playing with a duo, and he loves the intimacy of playing jazz and blues with only a vocalist. Mike also teaches guitar and enjoys sharing the joys of learning the instrument with others.
Our set list includes:
Ain't No Sunshine – Bill Withers
Always Remember Us This Way – Lady Gaga
At Last – Etta James
Back To Black – Amy Winehouse
Be Ok – Ingrid Michaelson
Black Hole Sun – Soundgarden
Bubbly – Colbie Caillat
California Dreamin' – The Mamas and the Papas
Come Away With Me – Norah Jones
Creep – Radiohead
Don't Know Why – Norah Jones
Ex's & Oh's – Elle King
Give Me One Reason – Tracy Chapman
If I Ain't Got You – Alicia Keys
I'm Yours – Jason Mraz
Interstate Love Song – Stone Temple Pilots
Island In The Sun – Weezer
Isn't She Lovely – Stevie Wonder
Lithium – Nirvana
Lonestar – Norah Jones
Look What I Found – Lady Gaga
Love on the Brain – Rihanna
Meant To Be – Bebe Rexha
The Middle – Marin Morris
Moondance – Van Morrison
Natural Woman – Aretha Franklin
The Nearness of You – Norah Jones
Piece of my Heart – Janis Joplin
Put Your Records On – Corrine Bailey Rae
Santeria – Sublime
Say It Ain't So – Weezer
Seven Nation Army – The White Stripes
Shallow – Lady Gaga and Bradley Cooper
Something's Got A Hold On Me – Etta James
A Sunday Kind of Love – Etta James
Sunday Morning – No Doubt
Super Duper Love – Joss Stone
Turn Me On – Norah Jones
Valerie – Amy Winehouse
What Am I To You – Norah Jones
What's Up – 4 Non Blondes
Wild Horses – The Sundays